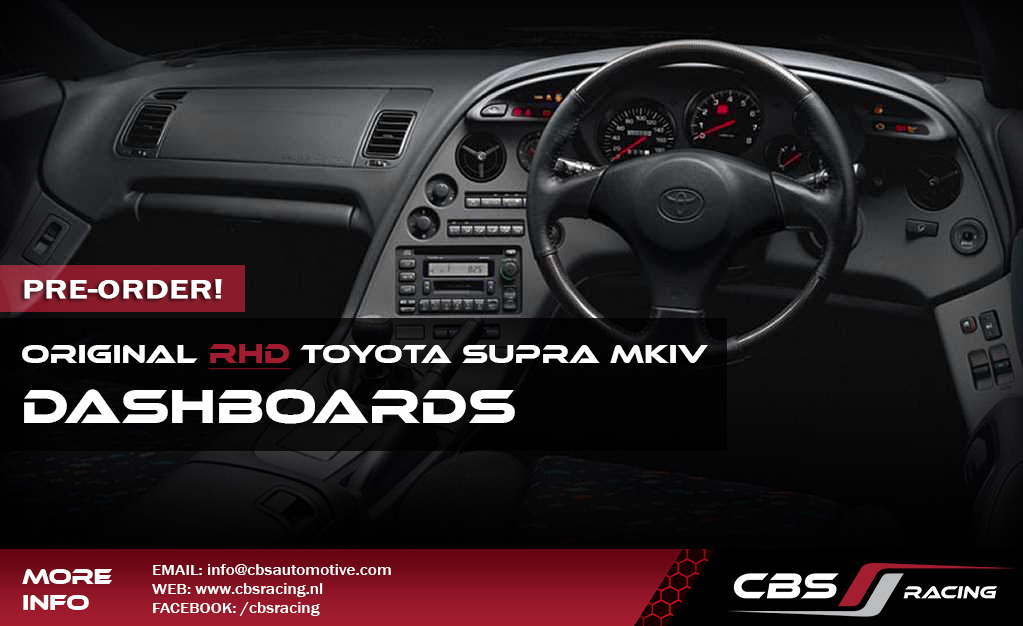 *Please read the whole add*
For the first time in years we at CBS Racing are happy to announce that we have the opportunity to get a single run production restart made from Toyota on the currently discontinued RHD Dashboards!
These are Genuine OEM Toyota parts and will be brand new in original packaging!
We will be running a Pre-order period at a reduced price for the next 1 – 2 weeks, and this will be the only way to secure yourself one! Any stock after the pre-order period will be VERY limited!
We ship EU wide, for Australian customers, more info further down
Not from the EU or Australia? Know a community with lots of interest in this? Contact us and we can see how we can help!
Pricing:
Pre-order price
995 EUR inc VAT*
Normal price
1195 EUR inc VAT
*25% nonrefundable deposit will be asked upfront until the Dash is ready for distribution, then the rest of the amount + shipping will be billed before we ship them from our location in The Netherlands to your door
Shipping indication:
We can provide EU wide shipping at 50 EUR inc VAT per unit**
**This price can, however unlikely, be subject to changes
Lead time(production time) is 4 months until we start distributing them
FOR ALL AUSTRALIAN COSTUMERS
We have together with @Menash Al Sundarial organized a "Group buy" for Australia, menash will handle all incoming orders from Australia, and do local distribution in Australia,
Prices for Australia are different pricing due to shipping, tax and other regulations, please contact Menash for pricing and shipping within Australia.
Pre-order pricing is set at 1700 AUD per unit ex shipping within Australia if a big enough order is organized, so don't hesitate to jump on this opportunity if you are interested in this!
Lead time is an additional 8 weeks for Australia due to container shipping from The Netherlands to Australia